We recently hosted my daughter's 4th birthday party at the beautiful Valmonte Farm and Garden in Palos Verdes Estates, CA.  This farm has so much to offer- from breath-taking views, ample seating, a children's area for play, chickens for feeding and gathering fresh farm eggs, to vegetables for picking, endless wildflowers and nature treasures, and two decks perfect for any entertainment you may want to bring in.  This place is an absolute dream for a child's birthday party, or for any event you have in mind!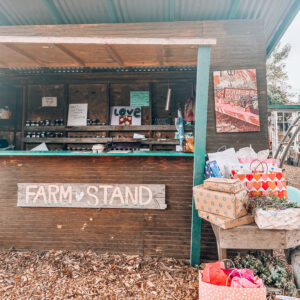 Included with the Event Space:
Valmonte Farm & Garden has SO much to offer for your events.  All of the following are included when you rent the space.
Children's Area: Mud Kitchen, Sandbox, Water Table, Train Set, Dollhouse, Balance Beam, and much more! 
Farm Stand: Nancy, the farm operator, set up a farm stand where guests could purchase fresh farm eggs, vegetables, house made jams, honey, and more!  It was so fun and such a special touch.
Feeding the Chickens: Chicken feed was provided and children could feed the chickens throughout the party as they pleased.
Picking Vegetables: Nancy took all of the children (adults tagged along too!) on a walk through the garden to pick vegetables.  We picked radishes, beets, onions, carrots, peas, and more!  This was one of the highlights of the party for us- they kids had such a good time having free reign of the garden to pick what they want and it was really fun to watch! 
Large Picnic Area: There are about a dozen picnic tables in a shaded area at the top of the farm.  We set up a brunch here (details below), and served cake at this area as well.
Glass House: This little greenhouse is straight out of a movie- made entirely of glass filled to the brim with potted plants and old-fashioned decor, this is the sweetest spot if you need to be indoors.  So chic for a dinner party or luncheon as well.
Lemonade Stand: Nancy provided freshly squeezed lemonade which was such a (delicious!) hit with the kids! 
Yoga Deck: A large wooden shaded deck at the top of the farm where we set up craft stations. 
Bottom Deck: There is another deck at the bottom of the farm, near the chicken coop, with seating built into the hill.  I had envisioned a musician setting up there but the musician we wanted was not available.  So many other great uses for this space!
Birthday Brunch:
Since our party was from 10am-1pm, we provided brunch, additional  beverages (aside from water and lemonade provided by the farm), and dessert.
FOOD:
Bagels and Cream Cheese (picked up from Noah's)
Lox platter (I made): Smoked Salmon, Hard Boiled Egg Slices, Avocado Slices, Sliced Cucumber, Sliced Tomatoes, Capers, Pickled Red Onion, Everything But the Bagel Seasoning, Fresh Dill, Lemon Wedges
Parfiats (I made): Vanilla Maple Greek Yogurt & Vanilla Cinnamon Chia Pudding, Homemade Granola, Fresh Berries
Salad (I made): Arugula Salad with Quinoa, Cherries, and Toasted Almonds
DRINKS:
Freshly Squeezed Lemonade and Bottled Water was provided by the farm.  We also brought in sparkling water (flavored and plain), canned kombucha, and canned coconut water.  We also had a carafe of coffee with cream and sugar. 
DESSERT:
Sailor's birthday request was cake pops, so my best friend made them using Annie's Organic Funfetti Cake Mix and we bought a classic half sheet cake for adults as well! (Cake Hack!: Buy a 1/2 sheet cake at Costco and decorate it yourself! The price cannot be beat and it is delicious.  I just asked for ours to be plain white and we added dye-free sprinkles and a big silver "4" candle in the center)
We also provided all of the paper plates, napkins, and silverware.
Craft Stations:
The only request my daughter had was to do arts and crafts specifically tie dye and slime, so we set up 4 different art stations on the yoga deck. Arts and crafts (and anything DIY, really) is not my thing, so I put some thought into how I could make this doable by my standard (and not drive parents crazy that attended the party!)
I had originally envisioned setting up the crafts and allowing families to do them as they please throughout the party.  However, with the way the party was flowing, we ended up doing all of the crafts together as a group and I loved that!  It was the perfect activity to bring everyone together, and the crafts were enjoyable for the adults too! 
We set up the following craft stations:
TIE DYE PLAY SILKS: white mini play silks + a tie dye kit
SEASHELL JEWELRY: seashells + wooden beads + colored hemp cord
NATURE CROWNS: kraft paper crowns with double sided tape + baskets (provided by the farm) for collecting nature treasures to stick onto crowns
MAKE YOUR OWN SLIME: glue + baking soda + contact solution + containers and spoons for each child to make their own
The Magic of Valmonte Farm & Garden
While we did bring in the craft stations and food, the beauty of Valmonte Farm & Garden is that you need absolutely nothing for it to be the completely magical space that it is. I didn't make or buy any decorations or have to pick up balloons or make a banner or have a bounce house.  The kids are all outside in nature, getting dirty and free playing as they wish, so there is not a ton of overstimulation happening that can be a common occurrence with parties and gatherings. It is such a reprieve from the hustle and bustle of the city that adults and children alike find their peaceful zen when visiting.  From birthday parties to dinner parties, baby showers to wedding showers, the possibilities are endless for events that could be held at this extraordinary little farm!
For more information about visiting the farm or booking events, please see Valmonte Farm & Garden