You're the owner of New Beginnings At The Nest, one of the most popular Mommy & Me classes in The Beach Cities. What drew you to this role and what do you love most about it?
I was a "Nest mom" (took Nest classes) with my two oldest children and became friends with the former owner and Nest founder, Tanya. I loved the community at the Nest, the friendships that I made, and felt so lucky to have been a part of the Nest with my babies. When Tanya moved in 2016 and gave me the opportunity to take over the Nest, I jumped at the chance! I have always worked with children and families so the Nest was a natural fit for me. I love being a part of moms' lives: a sounding board and source of support for them during baby's first year. It is such an honor to get to see babies learn to smile, roll, laugh, crawl, and walk at the Nest – I'll never take for granted what a gift all of these milestones are and how honored I feel to be a tiny part of it.
It's no secret that classes at The Nest sell out QUICKLY (I recall being on the waitlist myself….thank God you squeezed me in). What do you think sets The Nest apart from the other local options?
We all know that being a mom can sometimes feel really, really hard. At the Nest we do everything we can to bring some levity to mama-hood. We want to laugh, have fun, build friendships, and be a safe place for moms and babies. At the Nest we aim to provide resources, information, and support for our mamas, but above all we want to listen to how each of our Nest families and babies are different and support them in what feels best for their family.
Ultimately, though, the Nest is what it is because of the people in the room – the moms in our classes and the teachers that run them!!! I feel so blessed to be with such incredible mamas each week who are supportive and kind. We are our moms' biggest cheerleaders, and in turn, they are ours!
I can't say enough about our incredible team of teachers. All of our teachers have an extraordinary amount of knowledge about raising a baby, child development, and current research, yet we all have diverse professional backgrounds. I know this diversity of perspectives and experiences helps us best understand, relate to, and develop a program for the wide range of experiences of families at the Nest. Our teachers all love what they do, feel dedicated to supporting moms and building strong families, and I think you can feel this passion in the room at the Nest.
What's one thing people would be surprised to know about you?
Well… if you've been in one of my classes at the Nest, probably nothing… I'm a very open book! On the first day of class, one of the first things moms often learn about me is that there's not coffee in my Starbuck's cup… it's hot chocolate! I don't drink coffee because I've never liked the taste… although I do have caffeinated tea every day before lunch. 🙂
Where are you from originally and how long have you lived in the South Bay/Beach Cities?
I grew up in Southern California, Arizona, and Texas, but my heart has always lived in California! I came back to California to go to school at UCLA, met my husband, and have been here ever since. We've lived in the South Bay since we got married about 10 years ago.
Child(ren) and Age(s)? Asher (7) Ben (4) Reed (1)
With three kids and a thriving business, your life is pretty busy! What does a typical weekday look like for you?
There is no typical weekday! Every day is different which I absolutely adore since I get bored easily. 🙂 Mondays I spend with mamas and babies at the Nest, running straight to baseball practice and cheering on my boys and their coach (my husband!) after my last class. During the week, I volunteer in each of the boys' classrooms, have play dates, go to sports practices and My Gym, work on homework, cook dinners and pack lunches, and play in the backyard with the kiddos. When you call me with a question about enrolling in a class at the Nest, you may hear my baby crying in the background or I may be driving home from library story time. I love that I work with moms who understand that I wear many hats – often more than one at a time!
One of the most popular new initiatives the Nest has recently introduced is a workshop for 2nd & 3rd time Moms who are expecting. What unique challenges did you face as a Mom giving birth for the second and third time?  
I have pretty challenging pregnancies, and with a toddler at home, or preschooler and Kindergartener, pregnancy as a 2nd/3rd time mom became a time for me where I was flooded with mom guilt. My older kids got less attention from me while I was pregnant because I was so sick, I couldn't take the time to care for my body and growing baby like I truly wanted to because I was caring for my older children, and my husband shouldered so much responsibility around the house and with our kiddos. I often felt like I was letting everyone down. Moms are often so hard on themselves and I am no exception! I was in the thick of this pregnant mom guilt when we started our 2nd/3rd time mommy classes more than a year ago and they were immediately some of our most popular groups. I love that we now have a place for 2nd/3rd time mamas to talk about the unique challenges that they face and am excited that we've built a class program that's supportive to this group of mamas!
What are some of your favorite local things to do with your kids?
We love getting outside and exploring nature! We love going to the beach, hiking and searching for lizards, playing in the tide pools and finding little creeks with frogs. My kids are their happiest when they're exploring, dirty, and finding a creature of some kind. We also love taking field trips – visiting different museums, sights, parks, events in Los Angeles. We are so lucky to live in a city with so much to do!
What is your favorite restaurant in the area? Feel free to name a few!
A couple of weeks ago our family went to Lido di Manhattan and Asher told us it was the best meal of his life! With kiddos that are increasingly vocal about where we eat, they're often making the restaurant choices these days and their top request lately has been Mama D's. We love grabbing deli sandwiches from Malaga Country Market on the weekend and having a picnic. And, although they may not technically be restaurants, I can't talk about the Langsdale family's food preferences without mentioning ice cream!! We love weekend or summer evening trips to Handel's or Manhattan Beach Creamery.
How has this community been instrumental in getting you to where you are now?  
The South Bay has been where we started our married life and have brought home each of our babies. It's where we started and built our family, and is where many of my most treasured memories have been. I couldn't think of a better place to be raising our boys.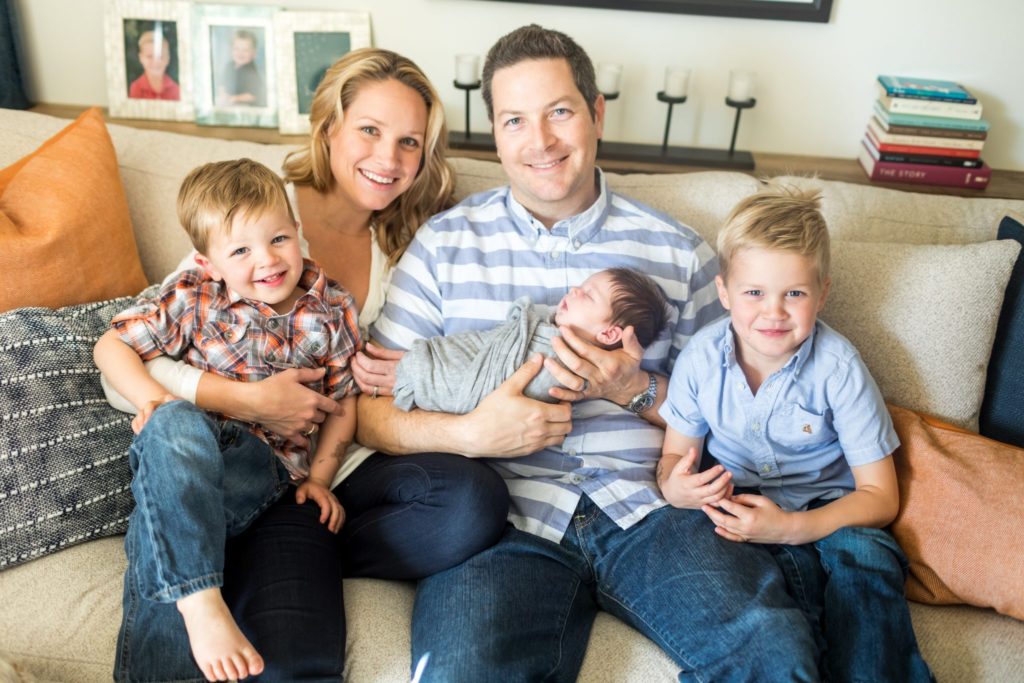 Photography by Erin Purdy Photography