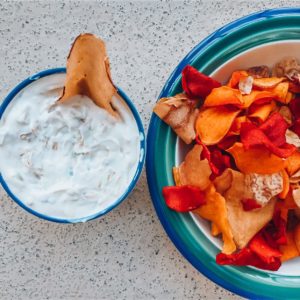 2 Tablespoons extra-virgin olive oil or avocado oil
1 medium leek, white and light green part only, diced
1 cup (8 oz) full-fat sour cream
1 cup (8 oz) full-fat plain Greek Yogurt
¾ teaspoon onion powder (or granulated onion)
¾ teaspoon sea salt
serving suggestions: potato chips, pretzels, veggies
Heat the oil in a medium skillet over medium heat. Add the leeks and sauté.  Once they start to develop a little color, turn the stove down to medium-low.  Continue stirring until the develop even more color, then turn the stove down to low.  Continue cooking a low for a few more minutes until golden brown.  The whole process should take about 10 minutes.
Meanwhile, combine the remaining ingredients in a bowl. Add caramelized leeks and stir to combine.  Refrigerate until ready to serve.
Notes:
-I highly prefer leeks in this recipe because they are a bit milder than an onion and seem to melt into the dip once caramelized.  However, if you can't find leeks or don't have any on hand, you can substitute a small diced onion in its place.  You still want to caramelize the same way; it will just take longer than the leek.
-To dice the leek, make 4-6 lengthwise cuts down the leek, leaving the root end intact.  Then make cuts crosswise down to the root end and you should end up with a dice.
-This dip can be made 3 days in advance and is even more delicious if it can sit in the fridge overnight before serving.