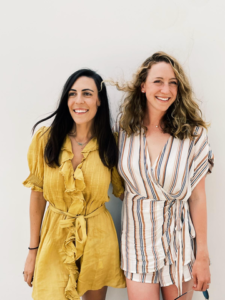 We recently chatted with the Manhattan Beach based sister-in-law duo behind Teddy's Cotton– a new California made and inspired organic baby apparel brand that embraces the slow fashion mentality and incorporates sustainable practices whenever possible, from production to packaging.
Jessica is a mom of two with a background in the finance industry, and Jess is a Californian with over 10 years of experience in production and children apparel.  The sister-in-laws wanted to design quality garments to be worn, shared and worn again.
There is a collective joy in passing on clothes to family and friends, and Teddy's Cotton hopes they can help your family start or continue this tradition of wearing and sharing organic baby apparel for years to come.
How many kids do you each have and what are their ages?
Jessie and I are sisters-in-law, and we are both "Jessica Holzman" at the moment (but not for long, Jessie is engaged!)
I have two boys, ages 3 and 9 months old.
Jessie is a fur mom to a cavalier-king charles spaniel.
What is your favorite thing to do with kids in the Southbay? 
My family and I just moved here last month from New York City. We are having so much fun exploring the area. We love to catch the sunset at the beach during the week, and we have started to venture to the other southbay beach towns. We checked out the tidepools in San Pedro this weekend. My 3 year old absolutely loved it!
Tell us about your new company, Teddy's Cotton
Teddy's is an LA based, organic baby apparel company focused on eco-minded gifting. Our launch collection features onesies and matching cuddle blankets in our four signature colors. Our sizes run from 0-12 months, and we plan to expand to toddler sizes with our next collection.
What inspired you to start Teddy's Cotton? 
Just over two and a half years ago, Jessie and I began dreaming up the perfect onesie and baby gifting experience. With her 12 plus years of experience in the fashion industry and my "momhood" status, we had so many ideas about how we could make the experience better for moms, sisters, friends, dads (really anyone!) hoping to buy something special for a little loved one.
What separates Teddy's Cotton from other baby apparel companies?
Teddy's is the definition of slow fashion. We are made in LA, we source high quality, organic GOTS certified yarn for our fabric and we choose classic designs that will stand the test of time. From the materials we use for our garments to the packaging, we try to incorporate sustainable practices whenever possible. Our mailer is 100% recycled, renewable source material as well as naturally biodegradable and recyclable, our tape is 100% recycled and the ink is soy-based, our hang tags are biodegradable seed paper (they bloom when planted!) and our tissue paper is made from FSC certified paper, is acid free, and is made with soy-based ink.
What is your favorite item you offer? 
It is hard to pick a favorite item because I'm obsessed with our launch collection! The colors we selected are gorgeous and our bundles make such sweet gifts. If I had to choose, I would pick the Berry Bundle because I love the rich color and it includes our signature onesie and baby blanket.
How do you juggle work and mommyhood? 
A juggle is truly the only way to describe it! Starting a business and moving across the country has certainly been a challenge, but my sister-in-law and I have been an amazing team and we have been able to support each other throughout the process.
What is the best piece of advice you've gotten from another mom? 
Every morning is a fresh start, pour that coffee and you can take on anything!
We would love you to explore our collection with the BEACHCITIESMOMS15 discount!